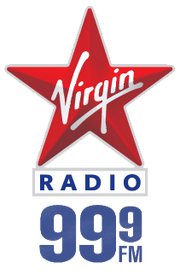 CKFM-FM, branded as 99-9 Virgin Radio (known on-air as "ninety-nine-nine Virgin Radio"), is a Canadian radio station, broadcasting at 99.9 on the FM dial in Toronto, Ontario. The station is owned by Astral Media. Formerly branded as 99.9 Mix FM, it adopted its current brand on August 25, 2008, pursuant to a licence from the Virgin Group.
MattyBRaps was interviewed at the radio station on August 31, 2010. This was his first interview. The radio station played MattyB's cover of "Love the Way You Lie" as an intro and then MattyB rapped his "Eenie Meenie" cover.
Ad blocker interference detected!
Wikia is a free-to-use site that makes money from advertising. We have a modified experience for viewers using ad blockers

Wikia is not accessible if you've made further modifications. Remove the custom ad blocker rule(s) and the page will load as expected.