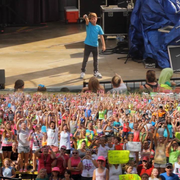 MattyB
fandom
(also known as
fanatics
or
fanbase
) is a group composed of fans characterized by a feeling of sympathy and camaraderie with others who share a common interest in him. They are typically interested in even minor details of MattyB and spend a significant portion of their time and energy involved with their interest, often as a part of a social network with particular practices.
Terminology
BBoys
BBoys is the official name of MattyB male fans.
BGirls
BGirls is the official name of MattyB female fans.
BBlacks
BBlacks is the official name of MattyB black fans.
Ad blocker interference detected!
Wikia is a free-to-use site that makes money from advertising. We have a modified experience for viewers using ad blockers

Wikia is not accessible if you've made further modifications. Remove the custom ad blocker rule(s) and the page will load as expected.