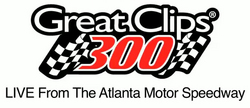 NRA American Warrior 300
(called
Great Clips 300
in 2010 and 2011) is a NASCAR Nationwide Series stock car race held at Atlanta Motor Speedway in Hampton, Georgia, a few miles south of Atlanta. This race has long served as Atlanta's lone Busch/Nationwide Series date, and has been shuffled around the schedule several times. From its inception until 2001 the 300-mile race was run as part of Atlanta's spring Winston Cup race weekend, as the then-Busch Series ended its season at a different track than the then-Winston Cup series.
MattyBRaps performed live on September 3, 2011. He performed on the "Coca-Cola fan stage" his remix of "Ice Ice Baby" and his original single "Sugar Sugar".
Ad blocker interference detected!
Wikia is a free-to-use site that makes money from advertising. We have a modified experience for viewers using ad blockers

Wikia is not accessible if you've made further modifications. Remove the custom ad blocker rule(s) and the page will load as expected.