MLB.com
is the official site of Major League Baseball and is overseen by Major League Baseball Advanced Media, L.P. (a subsidiary of MLB). MLB.com is a source of baseball-related information, including baseball news, statistics, and sports columns. MLB.com is also a commercial site, providing online streaming video and streaming audio broadcasts of all Major League Baseball games to paying subscribers, as well as "gameday", a near-live streaming box score of baseball games for free.
Interview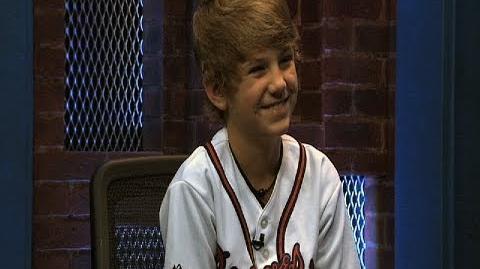 On July,2, 2013
MattyB
sat down for an interview with Jeremy Brisiel from MLB.com. The interview opened with a scene from MattyB's cover of "
Call Me Maybe
." In the interview MattyB told JBrisiel:
About how he became famous: MattyB explained that his cousin, MarsRaps, influenced on him and explained that he begged his cousin to make a video of him rapping. They did it and that song got 500,000 views overnight much to the astonishment of the interviewer. Brisiel aksed what song was that and MattyB responded the wrong name of his cover "Eenie Meenie" saying "Eenie Meenie Mino Mo Lover."
What he did the night he became famous:  MattyB responded by saying that he spent the night with his friend Carson. Brisiel replied to this by saying "the night before you became famous you were hanging out with Carson and now your going around the world."  Then MattyB interjected by mentioning how Carson encouraged him to become a rapper. Brisiel then asked if he was still friends with Carson and MattyB replied yes, that he was, indeed, still friends with Carson. 
About his family: Right after that Brisiel mentioned that MattyB traveled around with his family and asked MattyB if he thought his family was awesome.  MattyB said "Yes they are awesome."  Right after this MattyB told Jeremy that he thought of his mom as his favorite family member because she drove him everywhere.
His first live performance: MattyB said that his first live performance was probably news and that his first big one was the The Wendy Williams Show. Brisiel asked him when was him at the show and he responded that he was on the show three years ago much to Brisiel's amazement.
About what will happen the July 14th: Brisiel asked MattyB if something was happening on July 14th in Los Angeles. He then told him that he will perform at Club Nokia for a live concert. Brisiel then asked him how many people were coming to his concert to which he responded 1,200 people were coming. 
Brisiel ended the interview by telling him to keep doing awesome.
Ad blocker interference detected!
Wikia is a free-to-use site that makes money from advertising. We have a modified experience for viewers using ad blockers

Wikia is not accessible if you've made further modifications. Remove the custom ad blocker rule(s) and the page will load as expected.