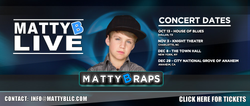 MattyB Live Fall 2013 is a live concert series consisting of four performances by MattyB at different locations in the United States of America. The first two concerts were announced on August 19 and the last two on September 27.
The live concerts where performed at the following locations and on the following dates:
Ad blocker interference detected!
Wikia is a free-to-use site that makes money from advertising. We have a modified experience for viewers using ad blockers

Wikia is not accessible if you've made further modifications. Remove the custom ad blocker rule(s) and the page will load as expected.