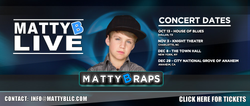 MattyB Live at City National Grove of Anaheim
is a live performance by
MattyBRaps
at City National Grove of Anaheim in Anaheim, California which will be held on December 29, 2013. This is the fourth and final concert of MattyB's 
Live Fall
"mini tour," the other concerts being:
House of Blues
in Dallas, Texas;
Knight Theater
in Charlotte, North Carolina; and
The Town Hall
in New York City, New York. This and the third concerts were announced after the announce of the first two. A video of the complete Anaheim Concert can be seen via the link below:
http://www.youtube.com/watch?v=AM_ZPEQM_m8
Background
MattyB announced the concert through a video uploaded in his official YouTube channel on September 27, 2013. He announced that this and another concert will be part of his "mini tour," consisting of four concerts in Fall 2013 at Dallas, Texas; Charlotte, North Carolina; New York City, New York; and Anaheim California. He also announced the two types of tickets that would go on sale on October 4 at 12:00 hours and that a portion of the income will be donated to the Ryan Seacrest Foundation. MattyB announced on November 8 that Skylar Stecker will perform as an opening act in the New York City and Anaheim concerts. 
Tickets
There are two different types of tickets available for the performance:
Normal tickets including:
VIP Packages for $150 each including:

Entrance to the show.
"Meet & Greet" passage.
A signed poster by MattyB.
A special MattyB merch item.
Ad blocker interference detected!
Wikia is a free-to-use site that makes money from advertising. We have a modified experience for viewers using ad blockers

Wikia is not accessible if you've made further modifications. Remove the custom ad blocker rule(s) and the page will load as expected.