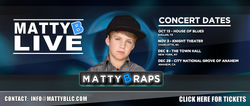 MattyB Live at Knight Theater
was a live performance by
MattyBRaps
at the Knight Theater, Charlotte, North Carolina which will be held on November 3, 2013. This is the second concert of MattyB's
Live Fall
"mini tour," the other concerts being:
House of Blues
in Dallas, Texas;
The Town Hall
in New York City, New York; and
City National Grove of Anaheim
in Anaheim, California. The last two were announced later.
Background
MattyB announced the concert through a video uploaded in his official YouTube channel on August 19, 2013. He announced a mini tour consisting of two concerts in Fall 2013 at Dallas, Texas, and Charlotte, North Carolina. He also announced two types of tickets that would go on sale on August 23 and that a portion of the income will be donated to the Ryan Seacrest Foundation. Posteriorly, MattyB announced on September 27 that two concerts at New York City, New York and Anaheim, California will join the mini tour.
Tickets
There are two different types of tickets available for the performance:
Normal tickets including:
VIP Packages for $125 each including:

Entrance to the show.
"Meet & Greet" passage.
A signed poster by MattyB.
A special MattyB merch item.
Video