Michael Jackson performing at his Dangerous Tour.

Information
Birth name
Michael Joseph Jackson
Also known as
Michael Joe Jackson, MJ, The King of Pop
Born
August 29, 1958
Gary, Indiana, U.S.
Died
June 25, 2009 (aged 50)
Los Angeles, California, U.S.
Genres
Pop, rock, soul, R&B, funk, disco, dance, new jack swing
Occupations
Musician, singer-songwriter, arranger, dancer, artist, choreographer, music producer, actor, businessman
Years active
1964–2009
Labels
Motown, Epic, Legacy, MJJ Productions
Michael Joseph Jackson (August 29, 1958 – June 25, 2009) was an American recording artist, singer-lyricist, lyricist, entertainer, actor, businessman and philanthropist. Often referred to as the "King of Pop", or by his initials MJ, Jackson is recognized as the most successful entertainer of all time by Guinness World Records. His contributions to music, dance, and fashion, along with a much-publicized personal life, made him a global figure in popular culture for over four decades.
Influence in MattyB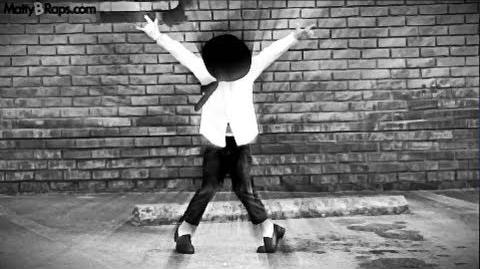 MattyB
made a cover of Michael Jackson's "
Billie Jean
" hit song.It is the only song that MattyB hasn't changed its lyrics because he "didn't feel like [he] should try to change [Michael Jackson'] songs into rap format." He also commented that "rapping over [Michael Jackson] just wouldn't be the same." He enlist Jackson as one of his favorite artist. Jackson influenced some of MattyB's dance moves.